Solving Your Plumbing Problems in El Paso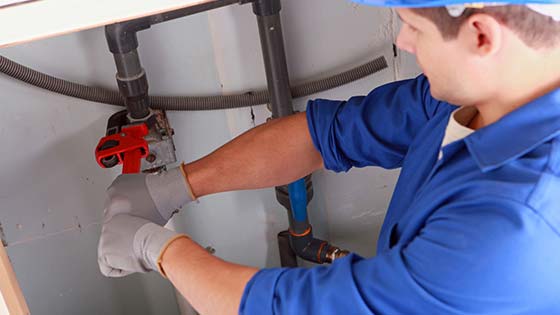 Here at New Age Plumbing, our plumbing expertise covers a wide range of services that will help you if you ever find yourself in the middle of a plumbing nightmare. We are certified and equipped to help you. Our services include fixing water leaks, replacing water heaters, and faucet repairs, which are some of the most common plumbing issues in El Paso.
Typically, a water leak comes from water fixtures in your home, like pipes and faucets. At the least, they're an annoyance that spikes up your water bill. At their worst, they cause serious damage and be expensive to repair. You can check for a leak by turning off your water and checking the water meter in 15-minute intervals. If it goes up without the water being on, you have a leak. You can also check for water around your home near where the water supply line is.
We use different methods to find and repair leaks, like video inspection, which allows us to find and assess an issue without pulling your house apart. We offer a number of services to help keep your plumbing system intact.
Drain Cleaning
Your drains can become clogged for multiple reasons. Drain cleaning can be a nasty job, but we're here to help. Your bathroom sink and bathtub typically become clogged when too much hair and debris wash down the drain. We take care of this by snaking your drain to remove the contents.
Your kitchen sink is another issue. While the garbage disposal does the trick most of the time, sometimes too much food washes down the drain and causes major blockage. Oil and grease can also coat the side of the drain, blocking the way. This, combined with undissolved food, can lead to a nasty mess. We typically handle this issue the same way we would a bathroom sink clog.
We can also handle any toilet drain clogs. The most common reason your toilet clogs is that things like baby wipes or feminine hygiene products are flushed down the toilet. Normally, pipes can't handle those items. Unfortunately, this usually results in an overflowing toilet. We can help handle the mess and get your pipes working like new again. If you need a drain cleaning in the El Paso area, we're the ones to call.
Plumbing Repair
When the weather gets colder than usual, your pipes can burst. And if you have a leak, your faucet can bust. Luckily, we'll take care of these and any other plumbing repairs for you. We know that needing a plumbing repair can put a huge roadblock in your everyday lives, so we fix them quickly and efficiently.
Backflow Prevention
Backflow happens when the normal flow of water reverses itself, causing a mixture of water, gasses, and industrial fluids to make its way into your potable water supply. Not only is this undesirable, but it can be dangerous. We help counteract this by installing a backflow prevention device. These devices work by creating a place where contaminated water can pool. This way, it doesn't flow to your faucet or dishwasher hookup.
Toilet Repairs
Sometimes toilets break down on us. A few signs that you need a toilet repair include water on the floor surrounding the toilet, inability to flush, or slow refilling. This can be as simple as the chain inside the tank becoming unhooked, it could be a clogged system, causing a backup in your toilet and other systems.
Common toilet issues include broken flush valves, leaking flappers, and a broken supply hose. All of these require simple toilet repairs. If your flush valve or flapper are broken or leaking, we normally replace those parts to take care of the issue. Another common issue is random flushing. This means the tank ball inside your toilet isn't working properly. We can fix this problem by replacing your flush valve. While these fixes may sound simple, it's better not to get your hands dirty trying to fix them yourself.
There are many ways we repair toilets. Sometimes we have to fix the valves or replace seals. Other times we replace the whole toilet altogether. Whether it's a minor repair or full replacement, we can help.
Sewer Cleaning
Cleaning a sewer requires us to get down and dirty. To clean a sewer, we submerge an industrial size plumbing snake into the clogged pipe. The snake, equipped with a motor, either breaks through the debris and scum causing the clog or hooks it out. Because of the technology used and the kind of debris you can come in contact with while cleaning a sewer, it's best to let a professional handle it. Not only will it save you from messing with a nasty sewer, you'll end up with fewer mistakes than if you were to attempt to do it on your own.
A sewer clog can happen for a number of reasons. Normally, it happens because a regular drain clog wasn't taken care of properly. A few signs that you have a sewer clog include foul odors, frequent, recurring clogs, and multiple drains clogging at once. Sewer cleaning is definitely a job you don't want to do yourself, so call us if you think you may need it.
Whether it's a simple toilet fix or a large sewer cleaning job, you can count on New Age Plumbing to get the job done. Plumbing repairs are our specialty, so you don't have to worry. We are dedicated to serving you and making sure your plumbing system is restored in no time.